Serving Orillia Lake Country, North Simcoe, District of Muskoka, Parry Sound District, North Bay and Blue Sky Region and Sudbury District
Please Spread the Word: Genworth Canada's Meaning of Home Contest 2016

Back to School? Win a $50,000 Donation for Habitat!

What does "home" mean to you? Students in Grade 4, 5 or 6 in Canada, can enter the Genworth Canada Meaning of Home contest to win a donation for your local Habitat for Humanity Ontario Gateway North affiliate! This year's Grand Prize is $50,000 towards the build of a Habitat home, and every contest entry results in a $10 donation to Habitat. If every eligible student in the Habitat OGN region entered, we would raise enough money to build an entire home! Visit
www.meaningofhome.ca
to find out how to enter.
(For more about Habitat OGN's plans regarding the Meaning of Home contest continue below to Britta Gerwin's Fund Development Column.)
In This Issue:
* Meaning of Home
* Two Doors Down
* Fund Development with Britta
* Hods & Sods
* Carter Work Project
* Orillia Business Women
* Amazing Race
* Habitat on Cogeco!
* Salvage Crew Members Wanted
* SA Fundraising Dinner
* Health & Safety Tip
* VIDEO TEASER
* Save the Dates
* Quote of the Week

The Newsreel: Quick Facts to Keep You Informed!
* Support our 2016 build projects across the region by donating online at canadahelps.com.
* Our Espanola Build rolls on! Stay up to date with photos and more at the Habitat for Humanity - Espanola Build Facebook Page.
* 1 in 5 Canadian families are living in unstable homes. But little by little, a brick for brick, you can help bring stability to the lives of many children from low income families. Because you're not just helping us put a roof over their head, you're helping us put the ground beneath their feet. For full details on the Brick for Brick campaign visithabitat.ca/brickforbrick

Know someone who'd like to be involved with Habitat? Share the newsletter with them! Anyone who is interested in staying in touch can sign up for the weekly newsletterhere!

Hi Habitat Gateway North Team!


Although it's a short week and the kids have headed back to school, we've still been as busy in the office now as we were in June. The temperature hasn't really dropped around here to make it feel like fall either!

While Mother Nature may be undecided on what season it is, we're moving into our planning cycle for 2017. Planning for 2017 derives from our Strategic Plan set by our Board of Directors. Planning is taking goals from strategic to operational; taking a dream from concept through to achievement.

With regionalization in 2014, the planning cycle for HFH Ontario Gateway North had to change from the planning cycles used by the legacy affiliates. A necessary change, as each affiliate went from planning for approximately one build and one ReStore to Ontario Gateway North planning for five ReStores and builds across the region. Not an easy organizational jump to make!

Change out of necessity seems to be a difficult one to navigate. There's less of an opportunity to choose and recognize the change as it comes and organically develop a new direction. However, making changes is crucial to the growth and prosperity of the organization. Status quo will keep things trundling along, but then the question becomes "are we really reaching for our dreams?"


"Adaptability is about the powerful difference between adapting to cope and adapting to win."
- Max McKeown

Adapting to change is never easy, and we're still refining the planning process as we go. We test and we find out what worked, what did not work, what we need to improve on and we try again.

This Saturday

, our Board of Directors convenes to discuss plans for 2017 and how we adapt our current operations to build more capacity.

I like change. I like the idea of finding a new way to make something work more efficiently, to do a task better, to learn something new and utilize that knowledge. I don't have all the answers and I don't think one person ever does. Engaging a group of individuals, invested in a cause, creates discussion on how best to adapt to change, and that's something I truly enjoy.

While we take time to adapt to the summery fall we're entering into, let's also take the time to recognize the need for homes across our region. Is serving a few families a year really enough when the number of families on waitlists for social housing continues to increase drastically, year over year? I think we're dreaming bigger than that.

Now, let's make that dream a reality.

Be well, do good deeds and keep in touch,

Meghan
Two doors down . . .

How cool is that Salvage Crew in the picture down below? Check out the guy with the long red beard and the woman in the back left. She's ready to tear down some kitchens.

It dawned on me a little after seeing that photo it really is a great representation of what you can expect when volunteering. Honestly, how many other social situations would you see Long-John RedBeard and somebody's grandmother willingly pose for a photo in the same group. Volunteering takes people out of their comfort zones and politely forces them to interact with people they otherwise - well - probably wouldn't.

For some people, this idea of meeting new and different people is exciting. They've done it all their lives and to them it's a breeze. To others, a situation where they're made to interact and work together with a group is a monumental and frightening task. Hopefully, for those people volunteering serves as a way to ease this transition in a safe and friendly environment.

One Christmas season I helped sort a warehouse of donated food into little balanced packages for families to enjoy over the holiday season. I was teamed up with my best friend and a couple of older gentlemen. The first few days my friend and I kept to ourselves, as did the older gentlemen. One day, in the early going, I made a comment while handling canned whole fish. Something along the lines of "who actually eats this?" One of the gentlemen laughed. I thought it was because I was hilarious, but learned at lunchtime it was because he'd brought two packs of the stuff and was going to make us try it. Like I said, "monumental and frightening."

For the rest of the two week period the four of us bonded and by the last day we were all sorting food together. We asked them about all the unique varieties of canned meats and digestive cookies while informing them about the wonders of Dunk-a-Roos. Good times. The fish was gross, very salty.

Greg
2017 Jimmy & Rosalynn Carter Work Project Coming to Canada
Story from
Habitat.org
The location was announced during the closing ceremony for the 2016 Carter Work Project in Memphis, Tennessee. More information will be released on
Oct. 3, 2016
.
Last week, President and Mrs. Carter, Garth Brooks and Trisha Yearwood helped build or improve 35 homes in partnership with Memphis families and 1,500 volunteers. New home construction and several beautification and aging in place projects that took place during the build week helped fulfill Habitat for Humanity of Greater Memphis' commitment to build 50 new homes and revitalize 100 homes in the city's Uptown area.
"We are excited to head to Canada in 2017 with President and Mrs. Carter," said Jonathan Reckford, CEO of Habitat for Humanity International. "Their longstanding commitment to helping families build a better future for themselves has been a blessings to us and continues to inspire people everywhere to help us fulfill our mission."
Since 1984, President and Mrs. Carter have traveled across the U.S. and the world with Habitat, donating their time and voices annually to build and improve homes, and raise awareness of the critical need for decent and affordable housing. Inspiring millions over the last three decades, President and Mrs. Carter have worked alongside nearly 100,000 volunteers in 14 countries to build, renovate and repair homes.
Donna Godfrey to Speak at Meeting of Orillia Business Women's Network
In Orillia the Habitat for Humanity Ontario Gateway North operates the Orillia ReStore at 220 James Street.
Donna has over 20 years fundraising experience within a variety of non-profits organizations. Some notable organizations include, the Canadian National Institute for the Blind (CNIB), The Multiple Sclerosis Society (MS), North York General Hospital Foundation, ALS Society of Canada, Big Brothers Big Sisters Orillia, Show your Support Orillia aka Bras for a Cause and Telecare. She then took a three-year sabbatical in New Brunswick where she bought and ran a lodge.
Donna began her career with Habitat for Humanity Ontario Gateway North as the Director of Development and Communications, at the Regional office in Bracebridge.
Six months later
, she seized an opportunity to manage the Orillia ReStore and bring her expertise back to her own community.
The meeting will be held at the Mariposa Inn & Conference Centre, 400 Memorial Ave. Orillia, Ontario

Wednesday, Sept. 14th, 2016
Fund Development with Britta


I had the pleasure of meeting the Orillia Chapter of Habitat for Humanity Ontario Gateway North last evening and found the enthusiasm and drive of its committee members inspiring. I look forward to meeting with each Chapter over the coming weeks.The week has been filled with the works surrounding our direct mailing for the Genworth Campaign. Over 400 packages went out to principals,teachers and schools. We are seeking volunteers from each Chapter, who would be willing to make follow up calls in their area, and make presentations at the schools upon request.

A script, contact list, and support materials will be made available next week. When speaking to the teachers and principals at the schools, we will message that if even 80% of the classes in our territory participate then the children would have raised enough money to build a home for one of our Habitat families. For every entry submitted Genworth will donate $10 to our region. Imagine the sense of pride and accomplishment the students would have to make this a reality!

Our office will write regional press releases regarding Genworth and what Habitat Gateway North is doing in each region to arrange media interviews. Additionally we are putting together a video challenge from a school in our territory to use on all social media platforms. If the students do raise the funds for the house, we will put together a video thank you from the selected family and list the participating schools at the build. This should create a solid base for future Genworth campaigns.

We have also been concentrating on different grant applications for each region. Thank you to Anita from the North Simcoe Chapter for calling us with the Ontario Realtors Grant Foundation information. A grant has been submitted for North Simcoe. We are seeking a letter from realtors from each Chapter to support regional grant applications. A gentle reminder that grants should be submitted on behalf of the Chapters from the head office. This will prevent multiple asks and will allow us to capture the information in our new database software.

If there are any events, corporate contacts or individuals that you would like us to get in touch with please call me at the office (705) 644-2849 or via emailbgerwin@habitatgatewaynorth.com

Thank you for all that you do on behalf of the families that we all serve. Together we are improving the lives of others, one family at a time.

Britta Gerwin
Director of Development & Communications
10 Questions: North Bay's Amazing Race
We recently asked Ellen Faulkner, Fund Development Chair for Habitat OGN North Bay & Blue Sky Region Chapter, to answer some questions about the Amazing Race schedule for
October 1
.
1.) Why the Amazing Race?
We have tried other fundraising ideas in North Bay, and one constant is that people always like a challenge so the idea came forward and we decided to try it.
2.) Who can participate in the Race?
This year we decided to go with 19 and older. But, we are getting requests for families, we wanted to increase the turnout so we later decided to allow families to enter the race as well!
3.) What are some of the obstacles and challenges?
Without giving out too many details and ruining the surprise, as the race is not till
Oct. 1
, I will say there are two very challenging locations. But, don't let that discourage you, most of the locations are easy and all of them are great fun.
4.) Who are the supporters of the race?
Businesses are great supporters. The ten locations for the race are all businesses in the area. I won't give it all away, obviously, but one location is the Fire Hall!
5.) What will the money raised be used for?
Habitat for Humanity Ontario Gateway North and its Chapters are always working to raise funds to build affordable homes for hard working families. Typically, we need to raise $100,000 to put shovels in the ground, so funds are always well needed and better used.
6.) What can racers expect?
A fun filled day of challenges followed by prizes and a meal.
7.) How does Habitat for Humanity help people?
Habitat gives a Hand Up not a Hand Out. We select a local family who partners with Habitat and is able to give 500 sweat equity hours, to pay back the mortgage that is interest free, and keep all upkeep needed for a home owner. Habitat helps to create affordable home ownership opportunities for hardworking families who otherwise wouldn't qualify for a bank mortgage.
8.) How much should I raise?
With each team member we hope for a minimum of $100. There is a prize for the individual who collects the most money in pledges. So, if we have 10 teams the minimum would be $400 x 10 = $4000. Our goal is 21 teams
PLUS
we are collecting advertising sponsors in the team booklet
9.) If I don't want to race, can I just give a donation or support in other ways?
We always need volunteers the day of, and yes you can donate by mail, online at
habitatgatewaynorth.com
.
Or you can drop off a donation at one of the Amazing Race checkpoint locations . . . if you can find one!
10.) Can I volunteer at the race instead?
Same answer as No. 9. (Editor's note: Yeah, I guess that was kind of redundant.)
Thanks, Ellen!
*some answers have been edited for length and/or clarity.
Cogeco TV: Plenty of Opportunities to Volunteer in Huntsville
(click on the image to play video)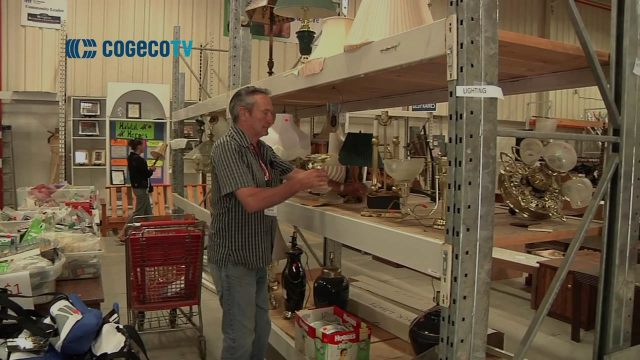 Thank you to Amy Pritchard of Cogeco TV Muskoka for this spot featuring the Bracebridge Restore and the plenty of opportunities to get involved at the Huntsville build site!
Espanola (159 & 163 Adelaide St.; semi-detached; underway): The siding is completed and the decking is nearing completion around the structure of the building. The families have been working diligently toward their hours of sweat equity and are so excited to move in to their new homes.

Huntsville (11 Irene St.; semi-detached; underway): Work is continuing on the structure of the semi-detached home at Irene Street in Huntsville, with wall sections arriving next week. We're currently recruiting volunteers for help in all areas of construction and with varying skills. If you're interested in volunteering as an individual or with a group please email info@habitatgatewaynorth.com.

Orillia (499 Bay St.; semi-detached; permitting): Still in the early phase of permitting, we're excited to get back to building in Orillia. With a mid-September target for excavation, stay tuned for our official ground breaking ceremony announcement.

2017: The Carter Work Project comes to Canada next year, with a target of 150 home dedications in the week of

July 9 – 15

, in honour of Canada's 150th birthday. Habitat Edmonton has committed 100 homes. Habitat Manitoba another 25. We'd like – okay, we'd love – to have HFHOGN contribute six to 12 of the remaining. How we do it is a matter of current brainstorming and planning.